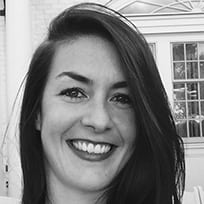 Interview APC President, Siobhan Daukes
Q: What's your career origin story? Meaning how did you get to be where you are now in your career.
Siobhan:
My dad was the Managing Director of a large European publishing company called Haymarket Media. He worked with a pre-media company in London called Colour Systems, in the very early 2000s.
I was in my first year of university and I wasn't feeling fully filled with my business degree. I was like, this is not challenging me. I only do nine hours a week in lessons, they don't teach me what I think I would learn in a practical environment. 
I think I just knew what I was learning wasn't a true representation of what was awaiting me in the real world, so I went to my Dad and told him I wanted a job and could he help me. He put me in contact with a contact who ran the pre media company and I was just like, 'Hey, I want a job, I'll do anything" and that's kinda how it all started…
I bounced around and I found myself in pretty much every department. I did whatever I could help out with and got to know the place quite well. After a couple of weeks of me being there, the receptionist went on maternity leave. I told her, let me sit on reception for you. A couple of weeks of doing this and before I knew it I had become the personal assistant to all the directors and was involved in all sorts. I basically just became what I liked to think of as 'Girl Friday' to the directors, my journey to understand many aspects of the business and industry had begun. 
For the remaining of my three years of university, I continued to do that 3 days a week as well as a couple of other casual jobs in hospitality. I had my sights set on buying a house and these various jobs allowed me to do that at the end of my first year with those four jobs, I was extremely proud of myself.
After I graduated school three years later, I said to the company, 'Hey look, the fun is over. I have got to go get a real job'. At the time, print was certainly not the all-powerful place anymore, and digital was coming in. By that point, the business itself had become a digital agency, a photography company, and we just bought a video production company. We also had a voice-over IP company and a digital publishing tool. 
I had written my dissertation in my final year on the idea that when you create content, you should be creating content for the channel at which you're going to distribute it. If you're going to take print content, and try and put it online and just make the pages turn, it's not going to work as hard. When you create content, you want to make it for the channel that you're actually expecting the consumer to consume it in.
Then my boss says to me 'We have some funding for this piece of technology and we're going to go to market with it as a B2B tech tool. Do you want to sell?' I was like, 'Sure, why not?' I'll be a salesperson. The tool at the time was a company called Ceros, and I started a career in b2b saas sales. 
Like in a lot of B2B tools, sometimes one of the big barriers is the implementation piece. Companies want to buy the tool, but then they don't use the tool because they don't know how to implement it. We were a production agency and thought, 'We don't need to have that problem. We can essentially sell the license, and then sell the creative services off the back of it. I gained a ton of exposure to the creative services part of the business working with these clients. From the get-go I was fascinated with everything involved in the creative content and production process.
Next, they asked me if I wanted to look after the production team and I agreed. At this point, I was managing both the production team and the sales. The business grew, we took on more salespeople. It became a really successful tool. I realized that I loved the production and operations pieces as much as the new business. 
The thing I realized I loved more than anything was working with clients to help them identify and articulate the goals that sometimes they were not able to fully do themselves. There's a skill to being able to draw information out of somebody, whether it's an individual or a company, in order to put it into a place that something can be executed on. I loved that process, I love the messiness of this and what's involved in navigating this with people and brands. 
Sales is about helping somebody identify a problem, and then getting to the point where they choose to buy a product or service to fix that problem. When you are interested in continuing that relationship with a client you tend to start to move into the client success/services, account management kind of realm. I always enjoy how invested you can become in the brands business themselves when you understand it from a wider perspective and work cross-functionally. I think that's why I never went to the brand side and always stayed on the agency side. I have enjoyed the learnings from all those industries, perspectives, and end products I have had the opportunity to work with. 
The next stage of my career I was part of the creation of a digital agency, it was during the very early days in the world of building websites. There was no Drupal or WordPress, it was all custom built. There was no such thing as e-commerce, nobody was selling online. By this time we had won a few US clients and I was looking after those accounts, including really amazing projects with Sears, Staples and Disney. I was helping these brands who had always developed content for offline, i.e. print, and were beginning to understand the concept of online. You couldn't just take the Sears catalog, make the pages turn, put it in a browser, and it was all going to be okay. It wouldn't function the same way and we were super dedicated to being at the forefront of what the future of online content was going to look like. 
We had a large Indian offshore team that had been set up to help us cut costs as the world of premedia was getting tighter and tighter to make money in. You had to find cheaper and cheaper ways to produce the work to the same quality and timeline and creating offshore teams was a great way to do this. I always understood the idea of why a brand would want to give their non-mission-critical work to a service provider so they could concentrate on what they did best. Whether that be outsourced or offshored, it didn't matter. More companies were becoming aware that they didn't need to do everything inside their own business. Whether that reason was financial, strategies, creative, time, or bandwidth driven it's often a great way to solve problems.
I think there was something in that which helped me understand efficient processes and working in a collaborative manner that has stayed with me since.